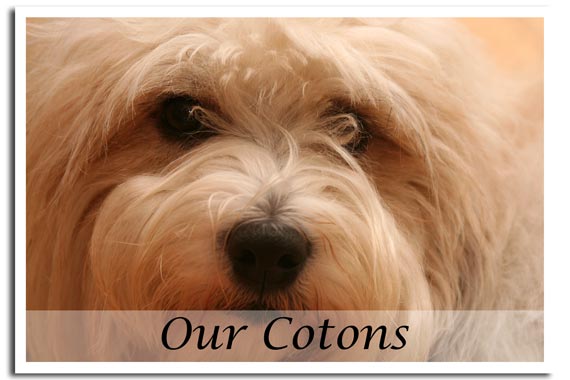 They're lively, sweet, and funny — each unique.
The foundation for beautiful, healthy, and sweet puppies is — no surprise — beautiful, healthy, and sweet adult dogs. Ours epitomize what we like best in the Coton de Tulear (coe-TAWN-day-TULE-ee-ar) breed. They are lap dogs, walking companions, clowns, and enthusiastic friends to all. They're calm and intelligent, qualities that have enabled us to train them for good manners — imperative in a five dog family. They have passed the rigorous testing required by the Coton de Tulear Club of America and receive annual clinical exams and blood panels as well.
Our dogs are beautiful but nurturing their sweet temperaments is our primary concern. We use wide socialization and positive training methods to preserve their unique joyfulness. The young puppies are directly influenced by their parents and by the spirit of respect in our home.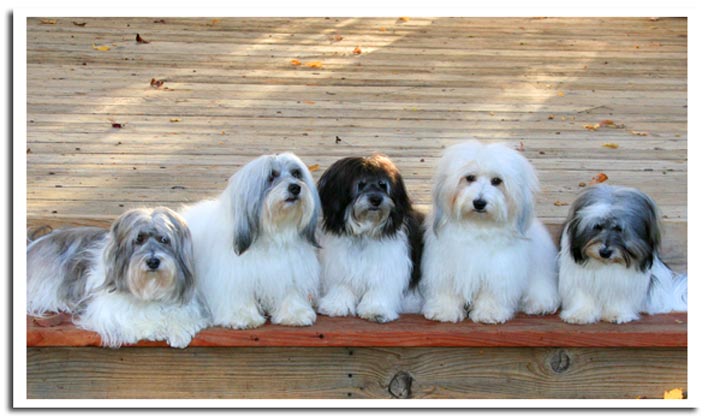 Breeding Cotons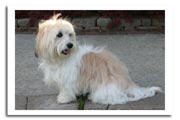 Bella Bijou of Blue Mountain Cotons Bella is one of our puppies from the "Y" litter produced by Molly Clair and Beinget de Charmont of Sierra Cotons, owned by Michele Crockett of Magiclands Ranch Cotons. She's tricolored, and gentle, playful and intelligent. Bella lives minutes away with friends we've known for decades. She seamlessly blends back into her first home when she visits.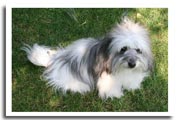 Ren O'Riley of Blue Mountain Cotons, or Ren, lives with good friends of ours and his big sister Lola, one of our previous puppies. Ren is a beautiful black and white boy, humble and obedient,with a charming smile and a goofy quality that makes him endearing. I see him often and always enjoy his company.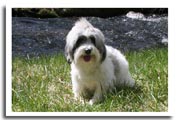 Molly Clair of Blue Mountain Cotons is a tricolor Coton, the daughter of Emma and Clancy. She lives nearby with close friends of ours; I see her often and love to take her on errands or adventures. When her puppies are due she returns to our home and easily rejoins the group. Molly and Emma are inseparable and do quite a bit of puppy care together.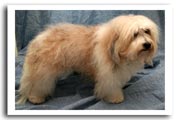 Clancy McGee of Crabapple Crossing, or Clancy, always wears a smile. He trots with a bounce and his general demeanor gives the impression of a cartoon dog. Clancy's very sweet nature is his most notable quality. He leads Kate, Emma and Maddie in random escapades but respectfully defers to Ellie.
Retired Cotons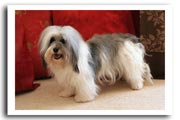 Emma Beth of Blue Mountain Cotons, or Emma, is Ellie's daughter from her second litter. Emma is a clown, the kind of Coton that is funny just standing still. Her rounded form gives her the appearance of an eager puppy. She's perennially cheerful. Her morning routine includes a lively greeting to every family member, guest, dog, puppy and cat in the home.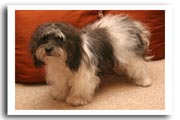 Madeline Mae of Crabapple Crossing, or Maddie, has a graceful, delicate appearance. Her favorite pastime is exploring outdoors, so she often wears twigs and seed pods as hair accessories. Her basic obedience skills are stunning, so she serves as our model dog when we're training puppies. Maddie is our only black and white Coton.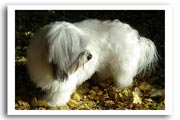 Serena Kate of Blue Mountain Cotons, or Kate, is a tricolor Coton and the daughter of our original Coton, Ellie, from her first litter. She was retired in 2012. Kate distinguishes herself with elegance and athleticism. When meeting strangers she happily offers her tummy for petting. She is as much a lap dog as an athlete, and she's always first in line to be held.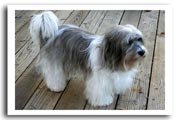 Elliana Miette of Ashenhurst, or Ellie, is our first Coton — she is six years old in this photo. She is a tricolor Coton, light-hearted, gentle and perceptive . She's passed her beautiful permanent coat color along to her daughters Kate and Emma. We retired Ellie in the Fall of 2009, prior to her eighth birthday. Ellie continues to help with puppy raising and we expect her to enjoy the lively life of the Cotons here for many years to come.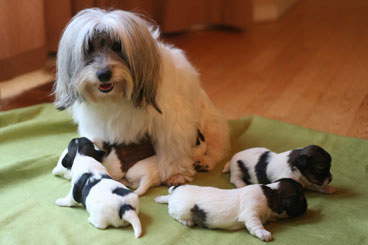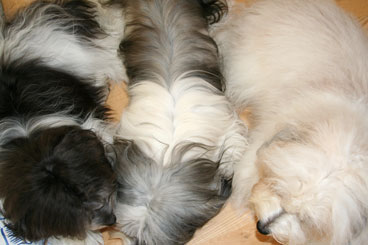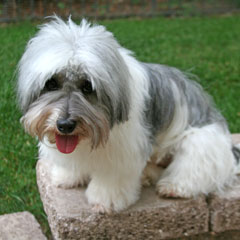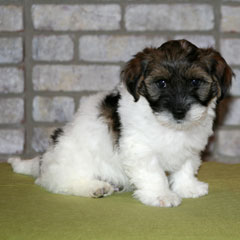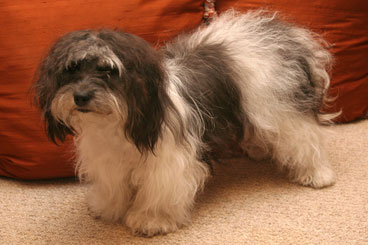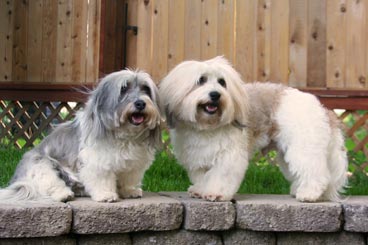 Scratch a dog and you'll find a permanent job.
~ Franklin P. Jones